Winnipesaukee Republicans Wine Tasting Social – August 16, 2021
Join us for a Wine Tasting on August 16, 2021 at the Winnipesaukee Winery, 458 Center St., Wolfboro, NH at 5:30 PM. (large white barn by The Nick) This is a social event to chat about politics and enjoy some wine.
No charge at the door.
Cost is $10 for wine tasting or their famous wine slushy.
The Good Eatz 603 food truck will be there for food to accompany your wine.
Guest Speaker will be Karoline Leavitt, a NH native and former staff person in the Trump communications office who is running for Congress.
To make reservations call Matt Plache 630-9422 or Glenn Cordelli at 515-0008 by August 13.
—
Belknap County Republicans' Annual FUNdraiser with Guest Speaker Senator Rick Scott – August 21, 2021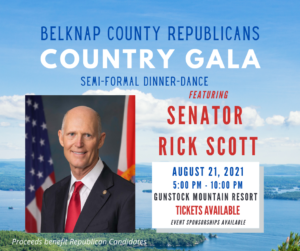 Belknap County Republicans are excited to invite you to join them for their annual FUNdraiser Gala at our pristine county owned Gunstock Mountain Resort. Thanks to the help of Matt Mowers, our Special Guest speaker will be Florida's Senator Rick Scott. You will also enjoy great food, music, dancing, live auction and a silent auction. This event allows guests to enjoy the entire Gunstock lodge facility with the meal and activities happening in the main lodge and guests can step outside to the beautiful patio for a spectacular sunset. We hope you will attend this summer evening of fun and camaraderie with some of NH's great Patriots! All proceeds from our annual fundraiser are used to help elect Republican candidates.
Gala Menu: salad, grilled steak tips, baked haddock, veggies, roasted potatoes and dessert
Tickets: $65.00 each
Sponsorships: (all levels will be advertised at our event)
The Belknap – $2,500.00 (includes 10 free tickets, Reserved seating)
The Gunstock – $1,000.00 (includes 6 free tickets, Reserved seating)
The Piper – $500.00 (included 4 free tickets)
The Mount Major – $250.00 (includes 2 free tickets)
*****
Tickets and Sponsorships can be purchased online at the link below
https://www.eventcreate.com/e/bcrccountrygala
If you have any questions about the event or sponsorships please contact Beth Varney at 603-765-6382.
*****
The LIVE Auction will include a 9mm handgun, items signed by President Trump, Lt. General Michael Flynn, Congresswoman Marjorie Taylor Greene, several signed books from prominent Republicans and more…
*****
Schedule
5 p.m.
People arriving / Cocktails / Games / Silent auction begins
5:38 p.m.
Guest Speaker is introduced
5:40 p.m.
Remarks from Senator Scott
6 p.m.
Dinner Bell! Prayer and Blessing by Pastor Sam
Gala Menu : salad, grilled steak tips, baked haddock, veggies, roasted potatoes and dessert
7:00 p.m.
Live Auction / reminder silent auction to end at 9 p.m.
8 p.m. ~ 10 p.m.
Dancing begins
9 p.m.
Silent auction ends / winners announced
*****
Senator Rick Scott is chairman of the National Senatorial Committee, serves on the Armed Services Committee, Commerce Science and Transportation, Homeland Security and Governmental Affairs, Budget Committee and on the Seniors and Aging Committee.
*****
Event Location:
Gunstock Mountain Resort (Main Lodge)
719 Cherry Valley Rd
Gilford, NH
"All solicitations of funds in connection with this event are by the Belknap County Republicans and not by Senator Scott."